Reading time: 2 min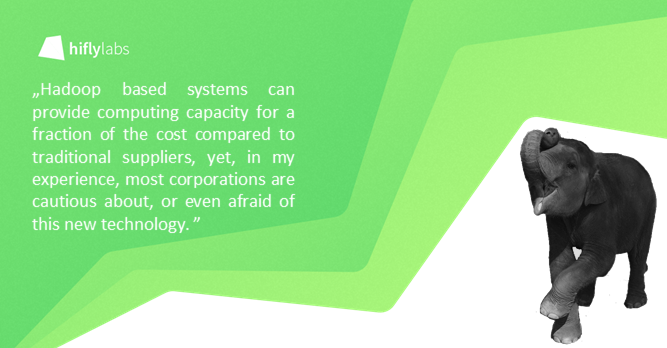 The elephant is said to be the most dangerous animal on the African Savanna. Nevertheless, the icon of the quasi standard Big Data processing tool Hadoop is a cute little elephant (by the way, the technology was named after a stuffed animal of the son of Doug Cutting, one of the inventors of Hadoop). Yet, in my experience, most corporations are cautious about, or even afraid of this new technology.
However, Hadoop based systems can provide computing capacity for a fraction of the cost compared to traditional suppliers.
Why do companies not jump at this opportunity? After many conversations and a few pilot projects, I came to the following conclusions:
Access management
With a little exaggeration, Hadoop allows basically anybody to access any data. Or one may have no access at all. Companies prefer more sophisticated access management than this.
Operational management
For most IT operational management teams, keeping track of the versions of their current technology is a challenge in itself. In addition, they are afraid of a differently operating system. Instead of the usual supplier support, Hadoop is mostly free but offers no support. (In contrast, Cloudera and Hortonworks, which, by the way, also have Hungarian developer teams, provide support service but not for the Hungarian IT budgets.)
User interface
Currently, specified knowledge is necessary for the upload and query of data using Hadoop. Although many are working on the creation of an easy-to-use interface for Hadoop, it is probably for this reason that no standard has yet emerged from the different solutions.
Nowadays, traditional companies get seriously interested in Hadoop only when some circumstances require them to change the current technology. If there is no such influence, Hadoop usually stays in the "interesting experimentation" category. Only the most committed ones belong to the exceptions.
Meanwhile, the big database vendors (Microsoft, Oracle, IBM, SAP, SAS, etc.) are all working on the taming of the Hadoop elephant, and I think they will be successful.
Hadoop is 10 years old. I am convinced that by the time it reaches adolescence, it will understand the world of business much better and will change it as well…
Hiflylabs creates business value from data. The core of the team has been working together for 15 years, currently with more than 50 passionate employees.