Reading time: 2 min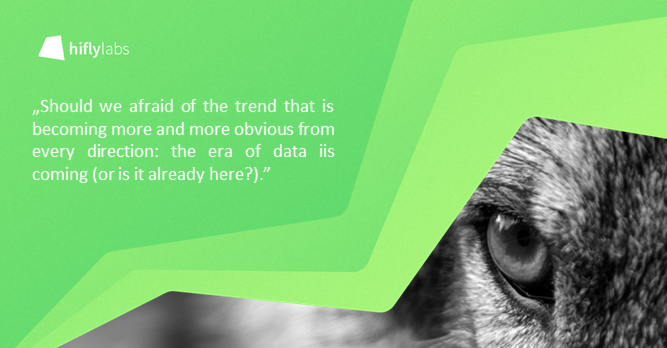 Since I have been making my living from working with data for 15 years, I was frequently asked lately: "Should we be afraid of the trend that is becoming more and more obvious from every direction: the era of data is coming (or is it already here?)"
Biased for natural and understandable reasons, I am looking at this new "megatrend" not with fear but enthusiasm, while, being aware of reality, I am only laughing at the sensationalist tabloid news.
I find it appropriate that based on the initiative of the Government of Germany, everybody calls this phenomenon "Industry 4.0", that is, the fourth industrial revolution. After the steam-engine, mass-production and robotics, today the data exchange between production lines and supply chains, and the optimization based on the exchange leads to the considerable improvement of efficiency. The term is appropriate because it shows that humanity experienced something similar before – although it led to significant changes in the society, altogether it brought development. It is appropriate because it does not underestimate the importance of these changes and does not delimitate the Big Data phenomenon as the craziness of "geeks".
The development of technology has made the production and processing of data way cheaper than ever before. It has opened up new opportunities (pressures?) for more and more industries to deal with data. While it used to be the privilege of telecommunication and financial corporations, nowadays the usage of self-generated and third party data sources are determinative of the competitiveness of not only the aforementioned manufacturing companies but also companies in trading, logistics, media, and even agriculture.
To conclude, I can only highlight: let us not be afraid of the data but get the most out of it as there will be losers of this revolution as well…
Hiflylabs creates business value from data. The core of the team has been working together for 15 years, currently with more than 50 passionate employees.