Reading time: 3 min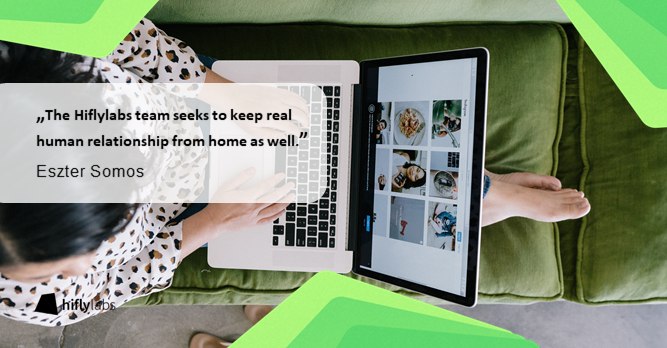 At Hiflylabs, strong community and building trust and confidence are important for us. There are many well-established ways to maintain this within the company, e.g. the mentoring system, or the monthly "Gyűlde", where everyone can meet new people and be informed about the status of the projects.
Home office took away many of our favorite programs. For example, we can't have a beer, play sports or play board games together. Still, we don't want to lose these connections. Therefore, we've tried a few online options, and in this blog post, we'd like to share what has worked out for us.
Drawn coffee time
Talking about home office, one big difference is that we don't meet colleagues in the kitchen, balcony or canteen we don't currently work with. Not only does this make it difficult for new members to find their place, but "old" colleagues also lack the good ideas that emerge at such times.
Therefore, we created a virtual coffee break (based on https://www.donut.com/). Slightly changing the concept, we organize events for 3-4 people. Anyone who wants to attend next week will put their name on a list from which we draw small teams each week who organize a meeting for themselves. 


[It's a surprise every week who we chat with]
"Hi,
the three of you will have a virtual coffee time next week. Don't forget to find a date suitable for everyone and add it to your calendars.


Suggestion: Thursday, 2-3 pm"
The "beauties" of home office slack channel
Isolation is an issue that affects everyone now and is difficult for many. We have dedicated a slack channel to this topic. Some people share recipes, photos and we can also talk about our doubts concerning this new situation.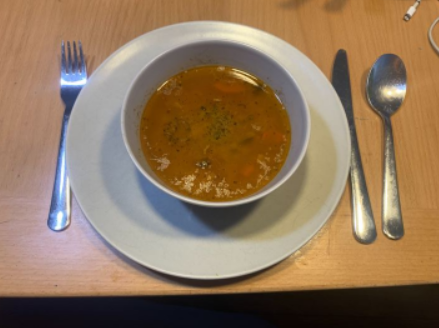 [Some have spare food until Tesco delivers.] 
"Today we ate the last goulash soup left over from last year's family day."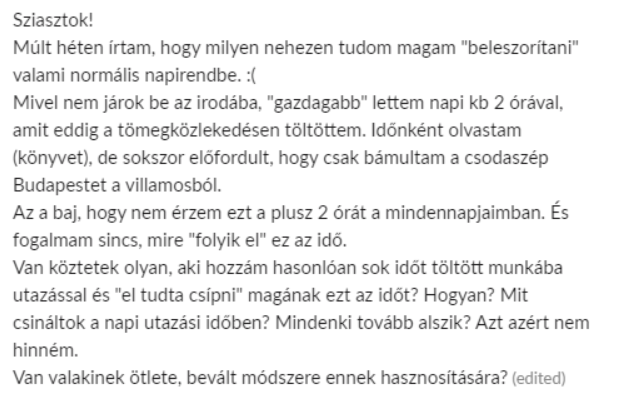 [We believe it's important to support each other in more serious questions as well]
Hi everyone,
I wrote last week how difficult it has been to me to keep a strict daily routine. Since I work from home, I have 2 more hours per day that I used to spend to get to work by public transport. Sometimes I read books or just enjoyed the spectacular view of Budapest.
Nowadays, I have no idea where this time has gone.


Is there anyone, who feels the same? Do you have any idea to make this time useful again? What do you usually do? Are you sleeping longer? Maybe not everyone. I'm open to suggestions.
Evening games
We loved playing together, so now, we're looking for alternatives that work well online. Some games we've tried: Drawful (https://www.jackboxgames.com/drawful-two/), Honfoglaló (https://honfoglalo.hu/), Age of Empires (https://store.steampowered.com/app/813780/Age_of_Empires_II_Definitive_Edition), and an online version of Fedőnevek board game (https://www.horsepaste.com/):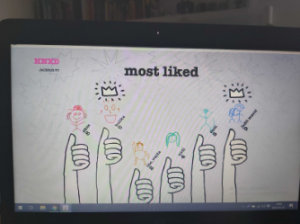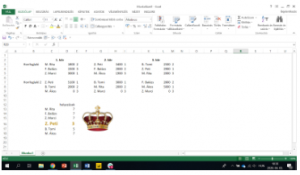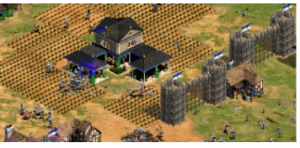 [Who knows game]
Common week closing

When the environment doesn't change around us, it is hard to switch from work mode to weekend mode. To facilitate this "switch", we hold an optional week closing on Fridays. Last time we gathered the unexpected positive effects of social distancing. Have you realized, for example, that people are truly interested in the answer to the usual "How are you" question?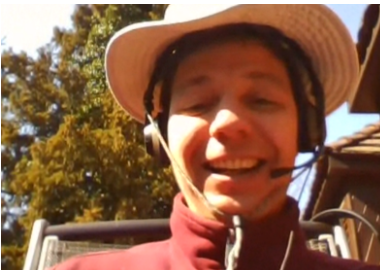 [We are still happy when the weekend comes even when we have to spend it at home]
Online All-Employee meeting (the so-called Gyűlde)
Before switching to home office, there was a monthly occasion where the management and project managers reported to everyone about the past period and upcoming professional and community events. Because everyone has more questions and uncertainties in the current situation, we're holding this event every two weeks in a Google Meet video call. An unexpected advantage of the online form is that everyone participates in the event equally, also those, who couldn't take part in person earlier. 

 [Despite all our fears, the whole company fits comfortably in a video call]
After the first shock
With a few weeks of experience behind us, we see that home office is not easy, still, we believe that with openness and patience we will be able to keep trust and motivation in this new framework. We hope that the lessons learnt during this period will enrich our culture and stay with us when we go back to the office again.
Somos Eszter – Data Scientist